Make your dentist proud.

A little background story:
Practically my whole life I've been using a super boring plain toothbrush, the kind you get in your dentist goodie bag. Doing no good for my consistent plaque buildup and the occasional cavity (something I thought I just had to live with). Then one day my dentist recommended I try an electric toothbrush, but I couldn't justify spending over $200 on one. So I just brushed it off (pun intended) and kept to my same routine.
---
Recently, Smile Brilliant reached out and was kind enough to send me their new cariPRO Ultrasonic Electric Toothbrush to try out, and I cannot believe the life I was missing out on.
I've been using the toothbrush for a full 2 weeks and have never felt more confident in my smile than I do now. My teeth feel SO CLEAN and I actually look forward to brushing them.
I can also visibly see my teeth getting whiter; and have a glass of red wine without worrying if it'll permanently stain my teeth (a dream come true).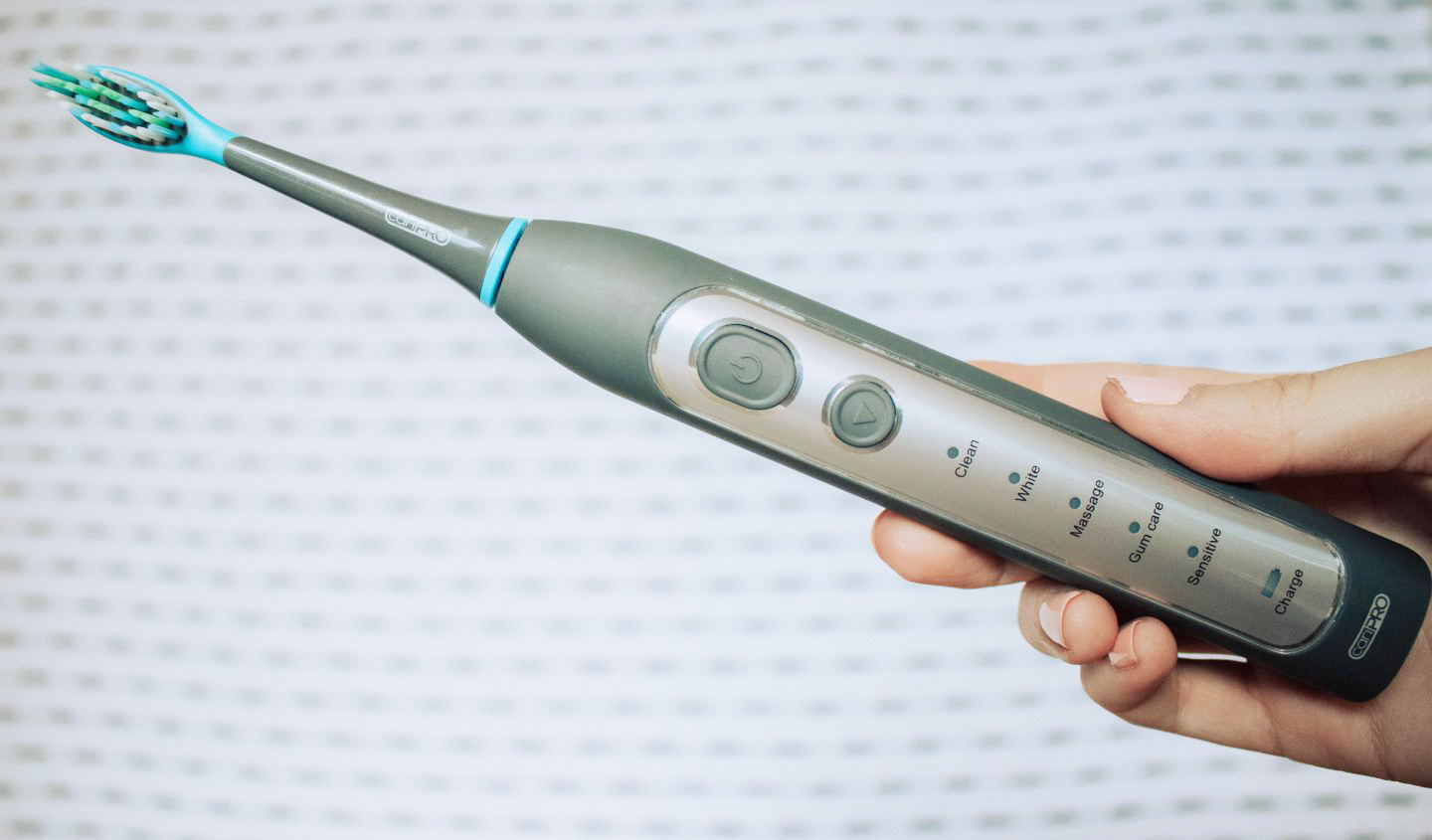 The toothbrush has 5 different settings: Clean, Whiten, Massage, Gum Care, and Sensitive. The 'Clean' setting is great for everyday use, I found myself using this setting the most. The 'Whiten' setting is a little stronger than the 'Clean' setting, and I used this about 3 times a week to really ensure I get a deep cleaning. 'Massage' and 'Gum Care' are pretty similar, they both are used to maintain your gum health. And lastly, 'Sensitive' is a great option for those with really sensitive teeth or gums, it is a little more gentle than the 'Clean' setting.
---
According to Smile Brilliant, the cariPRO Ultrasonic electric toothbrush removes 7x more plaque than a manual toothbrush AND improves gum health in as little as 2 weeks. Something I didn't realize I could change by the type of toothbrush I use.
But it only gets better from here…
Not only is this toothbrush extremely affordable and HALF the cost of comparable electric toothbrushes, but they also offer free shipping and a 60 day trial!!! So if you don't love it after 60 days, you get to return it for free! How amazing is that?!

More exciting news! Smile Brilliant is offering my readers 20% off the cariPRO Ultrasonic electric toothbrushes with the code: LivColorful20
---
My overall experience with this toothbrush has been nothing but amazing and I really hope it changes your brushing game like it did mine! If you have any questions please reach out to me or visit the links below.
For more information:
Smile Brilliant's website
cariPRO Electric Toothbrush
cariPRO Electric Toothbrush heads
Smile Brilliant FAQ
Discount:
20% off coupon code